To Donate to NVRC
Click on the Donate button below, then on following page  please type in donation amount , then complete your online purchase with a Credit card or PayPal Account online.
After your payment for donation you will see a button to return to the NVRC Donation Form to complete your donation information. Your donation od $50.00 or more includes an complimentary membership and an option to name another person or for your donation to be anonymous.
---
Members of NVRC are very special people and we count them as our friends. They span all ages, gender and ethnic groups. They live as close as our backyard, across the river and a few even come from other states.  With our small staff it is hard to keep in touch with our members as often as we would like, but we are working hard on your behalf and value your participation.  Together we make a difference in people's lives, each and every day. (Membership is for one full year.)
Individuals $20
Family  $25
Seniors  $15
Students  $10
Donations of $50 or more include membership.
Membership Benefits
Your membership indicates support of NVRC and its mission. Membership funds help provide programs to empower deaf and hard of hearing people in the Northern Virginia Metro area.
Your membership helps us expand and maintain the website.
Sign up for the popular "NVRC News," the daily email news service edited by our Executive Director.
Twice a year you will be mailed news about the Center and special events .
NVRC hosts an annual exhibitor event "Celebrate Communication," a fun-filled family day with over 50 exhibitors. Your membership helps us bring this event to the community for Free.
The NVRC "Members Only" Breakfast is held each year on the morning of Celebrate Communication and is free for our current members.
Only current members may vote for the new Board of Directors at the NVRC Annual Meeting each December.
Discounts to NVRC events, programs, trainings and workshops, and the NVRC Gala are sometimes offered to NVRC Members.
You can feel proud of your connection to NVRC. You belong to an organization that has a national reputation as a model nonprofit serving deaf, late-deafened, hard of hearing, and deaf-blind individuals and their families, friends, co-workers and serving professionals.
Donations of $50 or more include membership.
Click here to print out a Mail-IN Membership Form and Join Today!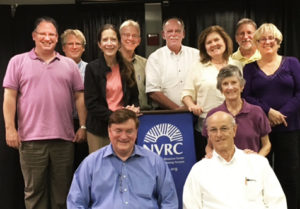 2016 NVRC Board – (from back left)
Brad Staton,Tony Battisti, Meg Duarte , Tom Dowling, William Boyd, Eileen McCartin, Ray Kovachik, Pam Gannon
(left front) Robert Loftur-Thun , Fred Williams, Kay Ellis
(Not in photo) Gary Viall, and Steve Williams